Shoulder Replacement Surgery Education
Learn what you'll need to do after your surgery.
All the details about what will happen before, during and after your surgery and how to prepare for it. If you have any questions after watching this video, call the Nurse Navigation team at (402) 609-2278.
Putting on and Taking Off a Shoulder Sling
Shoulder Precautions
Putting a Shirt On and Taking it Off
Putting On and Taking Off a Slingshot Sling
PREPARING FOR SURGERY AT ORTHONEBRASKA
Shoulder Replacement Surgical Technique
This video shows, in general, what the surgeon will do during a typical shoulder replacement surgery.

Anesthesia
Typically, both general anesthesia and a peripheral nerve block will be used.
This packet contains diagrams and instructions on shoulder positions to avoid after surgery, as well as exercises and instructions on how best to accomplish typical tasks during your day.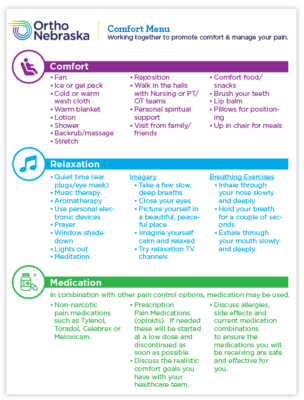 This sheet contains recommendations for ways to get comfortable despite some pain after surgery.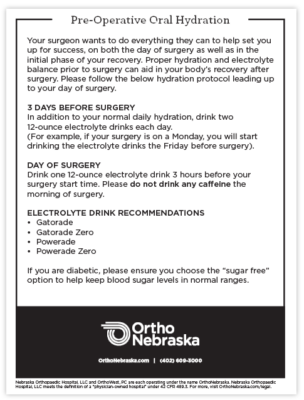 Properly hydrating before, during and after surgery helps aid in your body's recovery.