Hours & Directions
2725 S. 144th St.
Suite 218
Omaha, NE 68144
Monday – Thursday, 7 am – 6:30 pm
Friday, 7 am – 6 pm
Closed on major holidays, including Labor Day
Where to Go
The Northwest parking lot of Oakview Medical Building along with both the West A and West B entrances will be closed April 24 – May 8.
Please use Entrance East B as indicated on the map below to enter for your appointment, and try to allow for extra arrival time. We apologize for any inconvenience this may cause. We will have extra staff available to assist with getting you to your appointment.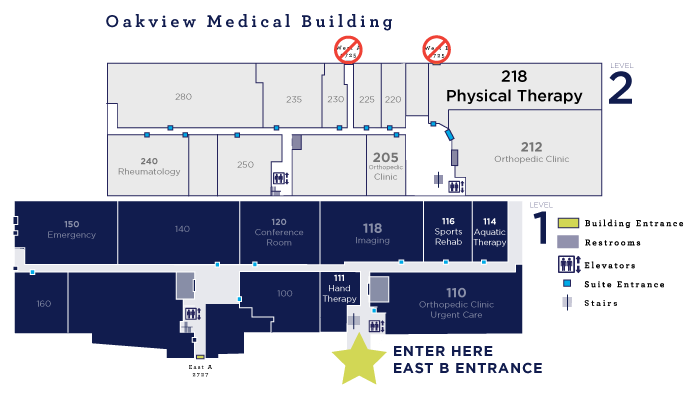 What to Bring With You
Masks are required and one visitor is allowed. See our full visitor policy for more.
Please plan to arrive 15 minutes prior to your appointment time, and bring the following materials with you to simplify your check-in process.
Picture ID (driver's license, state-issued ID card, military ID, or passport)

If the patient is a minor, a parent/guardian ID.

Current Insurance Card(s)
Supplementary Records or Imagery, if these have not previously been sent to our office or if you have copies from another medical center or physician's office.
Wear comfortable clothing; shorts will be provided if needed. Lockers are available to store personal items during your visit.
Services Provided at OrthoNebraska Oakview